The calendar has flipped to February, meaning we're just one month away from March Madness. As we bear down on Selection Sunday, knowing where your team stands becomes more and more important. After another week loaded with surprising results, here's an updated look at how Sports Illustrated currently sees the men's NCAA tournament field of 68, including some look-aheads to games this month that will be key in determining seeding.
On the Bubble
Last Four Byes:
Pitt
North Carolina
West Virginia
Memphis
Last Four In:
Kentucky
USC
Oklahoma State
Nevada
First Four Out:
Penn State
Texas A&M
Oklahoma
Florida
Next Four Out:
Wisconsin
Ohio State
Arizona State
Utah
The Pac-12's bubble picture is starting to take shape, with two locks in Arizona and UCLA and three teams realistically competing for bids in USC, Arizona State and Utah. The Trojans played their way into the field for now with last week's win over UCLA, while Arizona State has played its way out with four consecutive losses after a 6–1 start to Pac-12 play. Utah's win over Arizona and its clean résumé otherwise has the Utes in the conversation, but with nine of their 15 wins coming in Quad 4 games, Craig Smith's team still has work to do.
Oklahoma State secured its spot in the projected field with a road win at Oklahoma on Wednesday night. The Cowboys are now 4–5 in the Big 12 and importantly have five of their remaining nine conference games at home. Even after the Sooners' great win over Alabama over the weekend, it's hard to see Oklahoma winning enough Big 12 games to go dancing after taking a fourth home conference loss. It remains in the First Four Out for now, but as the season rolls on it will take a major reversal of fortune for this team to get on track for a tournament berth.
* = indicates team is projected to win its conference's automatic bid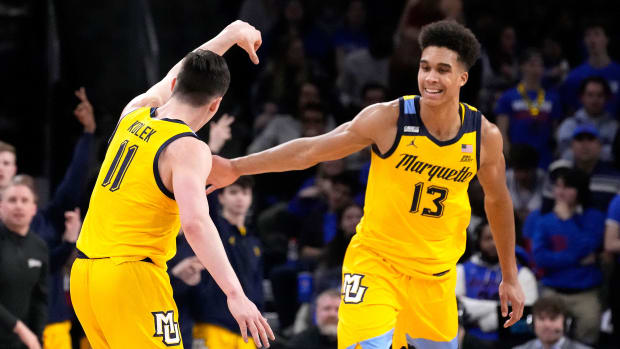 South
No. 1 Purdue* vs. No. 16 UT-Martin*/Southeastern Louisiana*
No. 8 Boise State* vs. No. 9 Missouri
No. 5 TCU vs. No. 12 College of Charleston*
No. 4 UConn vs. No. 13 VCU*
No. 6 Duke vs. No. 11 Memphis
No. 3 Kansas State vs. No. 14 Colgate*
No. 7 Florida Atlantic* vs. No. 10 West Virginia
No. 2 UCLA* vs. No. 15 Siena*
Purdue stays as our projected No. 1 overall seed and is getting some breathing room for that spot thanks to all the movement around it. The Boilermakers have three of their next four on the road, starting Saturday at Indiana. How they navigate that stretch will determine whether anyone else is even in the conversation for the top spot come Selection Sunday.
Florida Atlantic could come close to locking in an at-large bid even if the Owls falter in the C-USA tournament by beating UAB on Thursday. The Owls are in the top 20 of the NET, their road win at Florida is aging well and they haven't lost since November. Add another good win over UAB, and it would take a major collapse for this team to not go dancing.
Midwest
No. 1 Alabama* vs. No. 16 UMES*/Fairleigh Dickinson*
No. 8 Iowa vs. No. 9 New Mexico
No. 5 Saint Mary's* vs. No. 12 Kent State*
No. 4 Iowa State vs. No. 13 Utah Valley*
No. 6 Auburn vs. No. 11 Clemson*
No. 3 Virginia vs. No. 14 Furman*
No. 7 San Diego State vs. No. 10 North Carolina
No. 2 Texas* vs. No. 15 Youngstown State*
Virginia's seed ceiling will likely get determined by how the Cavs perform in their next three games—a road trip to Virginia Tech before home tilts with NC State and Duke. Virginia's résumé has been built on two excellent neutral-court wins over Baylor and Illinois in November, along with no bad losses. To keep up with the constant Quad 1 opportunities Big 12 and Big Ten teams are getting, Virginia needs to stack wins in this stretch and prove it is the class of the ACC.
Clemson is currently in as an autobid in the ACC, but its placement on the seed list would have the Tigers in the Last Four In if they don't win the league tournament. Clemson now has three ugly losses—to South Carolina, Loyola Chicago and Boston College—which could quickly start to outweigh the strong work the Tigers did to start 10–2 in ACC play. Brad Brownell's club will need 14 and perhaps even 15 conference wins to feel good about its tournament hopes on Selection Sunday.
West
No. 1 Kansas vs. No. 16 Southern*
No. 8 Michigan State vs. No. 9 Arkansas
No. 5 Illinois vs. No. 12 Oral Roberts*
No. 4 Xavier vs. No. 13 UC Santa Barbara*
No. 6 Providence vs. No. 11 Kentucky/Nevada
No. 3 Gonzaga vs. No. 14 Louisiana*
No. 7 Miami vs. No. 10 Northwestern
No. 2 Arizona vs. No. 15 Eastern Washington*
Kansas claims the last No. 1 seed after its win over Kansas State on Tuesday and Tennessee's loss to Florida on Wednesday. The Jayhawks will almost certainly lose multiple times the rest of the way, but have stacked up nine Q1 wins and have nothing even remotely resembling a bad loss. And with the number of opportunities it still has in conference play, Kansas will likely arrive on Selection Sunday with the most Q1 victories in the nation.
There's a lot to like with Illinois's résumé, as the Fighting Illini have now won seven of eight after an 0–3 start to Big Ten play. That, plus the team's two nonconference wins over UCLA and Texas, gives Illinois some real upward mobility on the seed list should it keep rolling in conference. Road games like Saturday's matchup with Iowa are an opportunity for the Illini to break into the top four seed lines.
East
No. 1 Houston* vs. No. 16 UNC Asheville*
No. 8 NC State vs. No. 9 Maryland
No. 5 Indiana vs. No. 12 Liberty*
No. 4 Baylor vs. No. 13 Bradley*
No. 6 Rutgers vs. No. 11 Oklahoma State/USC
No. 3 Marquette* vs. No. 14 Princeton*
No. 7 Creighton vs. No. 10 Pittsburgh
No. 2 Tennessee vs. No. 15 Vermont*
Marquette has won nine of 10, and now is the highest-seeded Big East team in our field. The Golden Eagles have three major opportunities left to add to their quality win tally: matchups at UConn and Creighton along with a home tilt with Xavier. Win two of those three, and a No. 2 seed is not out of reach for Shaka Smart's team.
Pittsburgh's bounce-back from a terrible home loss to Florida State in January has been impressive. Since then, the Panthers have beaten Wake Forest and Miami and won at North Carolina to give themselves some breathing room from a bubble standpoint. Five of the Panthers' next seven games are against teams currently ranked outside the top 150 of KenPom, which can be a double-edged sword: On one hand, the games are easier to navigate, but losses would be more damaging should the Panthers slip up. Avoiding another Q4 loss might be all it takes to get Pitt into the NCAA tournament.
Watch college basketball live with fuboTV: Start a free trial today!