The points that broke the NBA's most hallowed record came on a shot no one uses, in a gym built for college games, in a city with no NBA team, with just one league official present to commemorate the feat and a fledgling cable network there to broadcast it. The moment was magical, emotional . . . and over within minutes, hoops taking precedence over hoopla.
Yes, dear reader, 1984 was a different time.
Kareem Abdul-Jabbar was a towering figure, in every sense, when he swished the skyhook that lifted him past Wilt Chamberlain as the sport's all-time scoring leader on April 5 of that year. But the NBA itself was smaller, less glitzy, less boisterous, less self-promotional, less everything than the league of today.
LeBron James needs just 36 points to eclipse Abdul-Jabbar's record (38,387), a moment that will almost certainly come this week—and with considerably more pomp and circumstance. The game will be broadcast live in more than 200 countries, streamed over the internet and attended by NBA commissioner Adam Silver, alongside countless other league officials, celebrities and hundreds of reporters. Abdul-Jabbar himself plans to attend the celebration.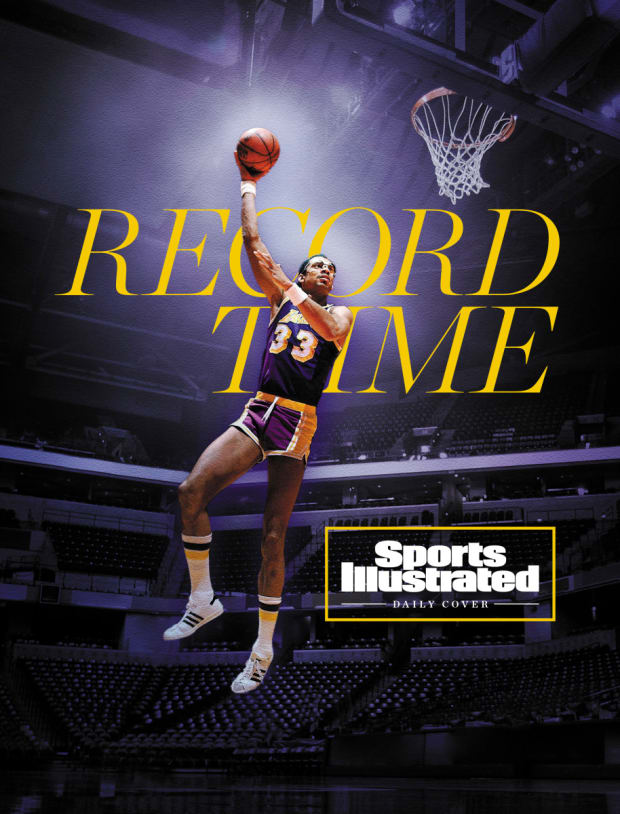 "I think it's spectacular," Silver, speaking in January, said of James's enduring excellence at age 38. "I hope fans are paying a lot of attention to what's happening right now."
Fans will be tuning in by the millions—perhaps the tens of millions—with the NBA now routinely beaming its games into living rooms in China, India, Europe, Africa and the Middle East. By contrast—and man, is it a contrast—Abdul-Jabbar's special moment 39 years ago was almost an intimate affair, charming in its minimalism. David Stern, two months into his role as commissioner, was the only NBA official in attendance. Lakers owner Jerry Buss skipped the game entirely. So did Chamberlain (though he attended the next game in L.A.). The only special guests were Abdul-Jabbar's parents, Ferdinand and Cora Alcindor.
"I really thought it was kind of underplayed, to be honest," recalls Thomas Bonk, who covered the game for the Los Angeles Times. "I didn't think it was that big a deal. The league was kind of new to the PR business."
The game did draw a surge of reporters—an estimated 20 to 30, by most recollections, a virtual media mob by 1980s standards. It was broadcast nationally by the USA Network, which was known then for cartoons and talk shows.
The oddest footnote of all was the game's location: UNLV's Thomas & Mack Center, which served as the "home" court for 11 Jazz games that season, an effort to extend their fan base beyond Utah. "Vegas gave it a little more extra pizzazz," recalls Lakers forward James Worthy.
This time, the record will—almost certainly—be set in downtown L.A., in one of the league's glitziest and most celebrity-filled arenas, with the Lakers playing home games Tuesday (vs. the Thunder) and Thursday (vs. the Bucks). Both games will be carried by TNT. League officials are mum on their precise plans, but it's expected the game will be stopped when James sets the record, and Silver will make an on-court presentation. A more extended celebration is planned for All-Star weekend, in Salt Lake City.
Intentionally or not, James practically assured himself of setting the record at home when he sat out a game in Brooklyn last week to rest a sore ankle—a routine case of "injury maintenance" in today's NBA, but a foreign concept in 1984. Abdul-Jabbar played all but two games that season. Also, that Lakers team was headed for another Finals appearance, while the current group is struggling just to get to .500. Even if the Lakers wanted the scoring record set in L.A. (or at least in an NBA city), it's inconceivable that coach Pat Riley would have ever "rested" a star.
We often view the '80s as the NBA's golden era—the time of Magic and Bird and Michael—but from a media and marketing standpoint, it was practically the dark ages, a time before cable connected every home, before home satellite dishes and the internet, before ESPN became a behemoth, before Nike turned stars into megastars, before Gatorade urged us to Be Like Mike. "We were just trying to get through the day back then," says Brian McIntyre, the league's former longtime director of public relations. "We had all kinds of issues in front of us. And it was a much smaller NBA back then. So we weren't really concerned with things like this. David wanted to go out there to show the respect that the office of the commissioner should have for a key player."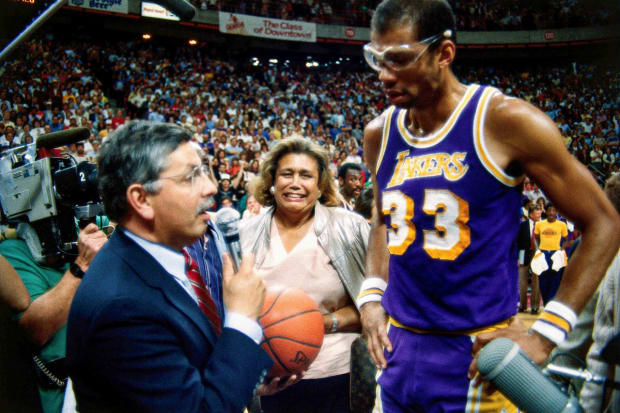 In a grainy snippet of video posted to YouTube, Stern holds a microphone amid a small crowd on the court and congratulates Abdul-Jabbar as "the highest scorer in the history of the National Basketball Association."
Abdul-Jabbar, clearly emotional, thanks his parents and the fans, before turning and heading back to the Lakers' bench, the game ball tucked under his left arm. The whole thing lasts about four minutes. "It was definitely: Hit the hook shot, thank you for the basketball and let's go back to business," Worthy says.
The Lakers back then didn't spend much time planning for Abdul-Jabbar's record-breaking shot, save for one detail: "We all knew that the only person that was going to pass him the ball was Magic," says Mitch Kupchak, who subbed in for Abdul-Jabbar once the record was secure. Sure enough, it was Magic who zipped the pass that set up the historic swish.
As the video shows, countless well-wishers flooded the court after the record-breaking shot, while the Lakers' director of promotions, Lon Rosen, frantically worked to unite Abdul-Jabbar with his parents amid the chaos. (McIntyre, upon seeing Stern back in the office, recalls telling him, "Maybe it's time for you to start traveling with somebody.")
The Lakers would have preferred the moment come at home, or at least in an NBA city, Rosen says, but there was little they could do, short of benching Abdul-Jabbar, which never would have happened. Anyway, as Bonk recalls, the venue made for an even more festive mood, for players, fans and media alike. "It was almost like, 'Let's get this over with, so we can go hit the [casino] tables,' " he says. (Indeed, Rosen recalls seeing the entire team, minus Abdul-Jabbar, in the casino that night.)
The game was covered by the usual gaggle of beat writers and columnists from L.A. and Salt Lake City, plus the wire services, The New York Times and Sports Illustrated. By comparison, Kobe Bryant's final game, in 2016, drew more than 450 media members, which league officials cited as a relevant baseline in the planning of LeBron's record-breaking night.
A more extensive celebration of Abdul-Jabbar's feat came one night later at the Forum, before a game against the Kansas City Kings. According to the account in the Los Angeles Times, Stern gave Abdul-Jabbar "a diamond-and-gold ring" to commemorate the record. From Adidas, his shoe sponsor, he received a Mercedes. From Buss, a home stereo system. And from his teammates, a LeRoy Neiman portrait of Abdul-Jabbar shooting his famous skyhook.
Chamberlain, who had a frosty relationship with Abdul-Jabbar, did attend that ceremony, wearing a black tank top and black slacks. He was gracious that night, in contrast to an interview he gave to Bonk days earlier, when he said snarkily, "If I had received half of the fanfare that Kareem is getting at this time, I wouldn't know what to do with myself." Though he praised Abdul-Jabbar's scoring prowess, Chamberlain also sniffed, "If this record is so great, well, it's only one of about 90 I held. I must be in a world by myself."
The relationship between Abdul-Jabbar and James, while tense at times, is probably best described as distant but respectful. Regarding the scoring record, Abdul-Jabbar has been consistently gracious. "The game always improves when records like that are broken," he said in an ESPN interview last August. "So LeBron should enjoy his achievement."
It's an honor few men have known in the NBA's 76-year existence. Joe Fulks was the first to hold the title, retiring in 1952 with 7,021 points. He was eventually supplanted by George Mikan (the first to reach 10,000 points), who gave way to Dolph Schayes, who surrendered the title to Bob Pettit, who retired in '65 with 20,880 points.
"I honestly don't even remember if they stopped the game," says Pettit, now 90. "It was just another event in the history of the NBA. I mean, it was not a big deal to anybody—except to me, it was a pretty big deal."
Pettit did get to keep the ball, he says. His reign, however, lasted a mere two years, before Chamberlain overtook him in 1966.
For Pettit, it's still a point of pride that he achieved the record in just 11 seasons. Chamberlain passed him in just seven seasons, but eventually played 14. Abdul-Jabbar needed 15 seasons to pass Chamberlain and retired after 20—equaling James's current total.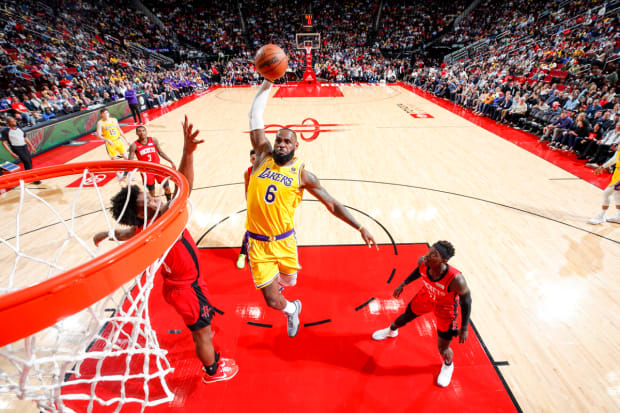 The record has become as much about durability as productivity. Pettit says he was one of the first of his era to lift weights. Abdul-Jabbar, a fitness pioneer in his time, added yoga and meditation. James has said he spends in excess of $1.5 million a year to stay in prime condition.
Given the advances in sports science and training, longer careers could become the norm—which makes Worthy think someone will one day eclipse James's record.
"Somebody's going to come along," Worthy says. "Somebody's going to say, 'Well, LeBron spent $2 million just on his health,' and they're gonna spend $4 million and they're gonna be sleeping in chambers and stuff."
Of course, no one can say who, if anyone, will challenge the mark again. Even with today's supercharged offenses and the popularity of the three-pointer, it will require a player of uncommon skill, commitment, good health and good luck.
Chick Hearn, the legendary Lakers broadcaster, summed it up nicely minutes after Abdul-Jabbar seized the record: "The way I got it figured, if a man played every single game—and nobody can—for 15 years, 82 games a year, for 15 years and averaged 25 points, he would tie what's been done here tonight. But nobody's going to play every game for 15 years. No one is in the physical shape this guy is in. And not many people ever play the game 15 years."
It wasn't a ludicrous take in 1984. It would have been more ludicrous to imagine a future athlete who passed like Magic, scored like Michael, was built like Wilt, stood an inch shorter than Pettit and had the audacity and endurance to outshine them all.