This is an archived article and the information in the article may be outdated. Please look at the time stamp on the story to see when it was last updated.
Which baby bouncers are best?
Baby bouncers are an excellent way to keep your baby entertained while you take care of tasks or if you just need a break. Some are as simple as a suspending seat on sturdy legs, while others pack in speaker systems, automatic movements and hanging toys.
However, the most complex bouncers can get expensive fast. Consider this and the fact that bouncers aren't meant for use by babies older than a few months when deciding what kind of bouncer you want or need.
What to know before you buy a baby bouncer
Baby bouncer types
There are two types of baby bouncers.
Basic bouncers are just that: basic. Chairs on bouncing legs. However, this does come with some upsides. They're more bouncy than active bouncers, and they're lighter and easier to travel with.
Active bouncers include extra features to help keep your baby more engaged. Most have toys that hang down. Other possible features include vibration settings or the ability to play music. The downsides are the higher cost, a heavier weight and a less sprightly bounce.
Incline
Most baby bouncers have one angle, but better ones have up to three inclines, as babies have preferences on how upright they like to be.
Cleaning
Babies are mess-making machines. That's why the best baby bouncers have removable and machine-washable liners, covers and inserts. For those that don't, you'll need to spot clean them with a soap-and-water-soaked cloth. Don't use chemical sprays, because the fumes can be hazardous to your baby.
How to use a baby bouncer safely
Baby bouncers are fun ways to keep a smile on your baby's face, but they do have safety guidelines that must be followed to keep something awful from happening.
Age and weight limit: Once your baby is old enough to bounce themselves, they can topple the bouncer. And pushing the weight limit can lead to snapping the legs.
Stable, unelevated surface: Never put your bouncer and baby on anything other than the floor. It isn't likely that the bouncer will shift or topple, but if it does, this helps limit the tumble's severity.
Harness: Always firmly buckle your baby into your bouncer to kep them from bouncing, sliding or shimmying out.
Immobile: Bouncers aren't meant to be carried or otherwise moved while your baby is in them, as it introduces the risk of your baby falling.
Sleep: The bouncing may soothe your child to sleep, which is safe. What isn't safe is letting them stay asleep in the bouncer, as your newborn may shift in a way that restricts their breathing. Remove them immediately once they nod off.
Unattended: The safest way to use a bouncer is to never leave your baby alone in one. If you follow the precautions, the chances of something happening are minuscule but never zero. If you're on hand at all times, the worst can be avoided.
How much you can expect to spend on a baby bouncer
Basic bouncers typically cost $30 to $50. Bouncers with more features, such as toys or vibration, can cost $100 to $150. Bouncers that can play a selection of music and soothing sounds usually cost $150 to $250.
What are the best baby bouncers to buy?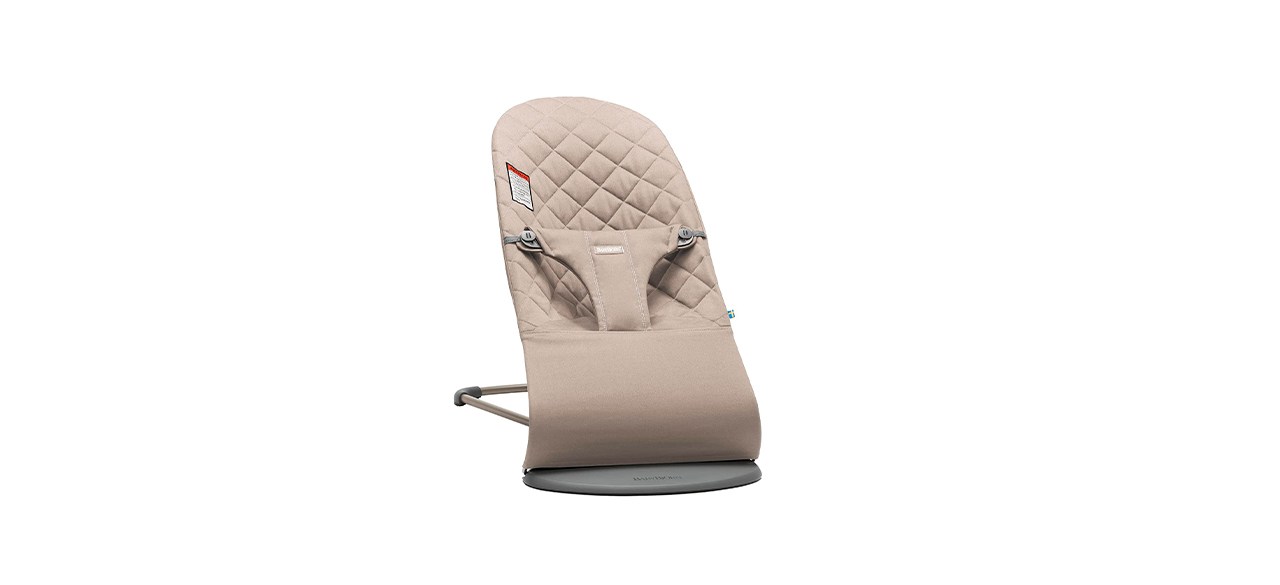 This bouncer is meant for newborns like all bouncers, but unlike others, it can transform into a small chair for kids up to 2 years old. It comes in 15 styles, with variables being color, stitching and material.
Sold by Amazon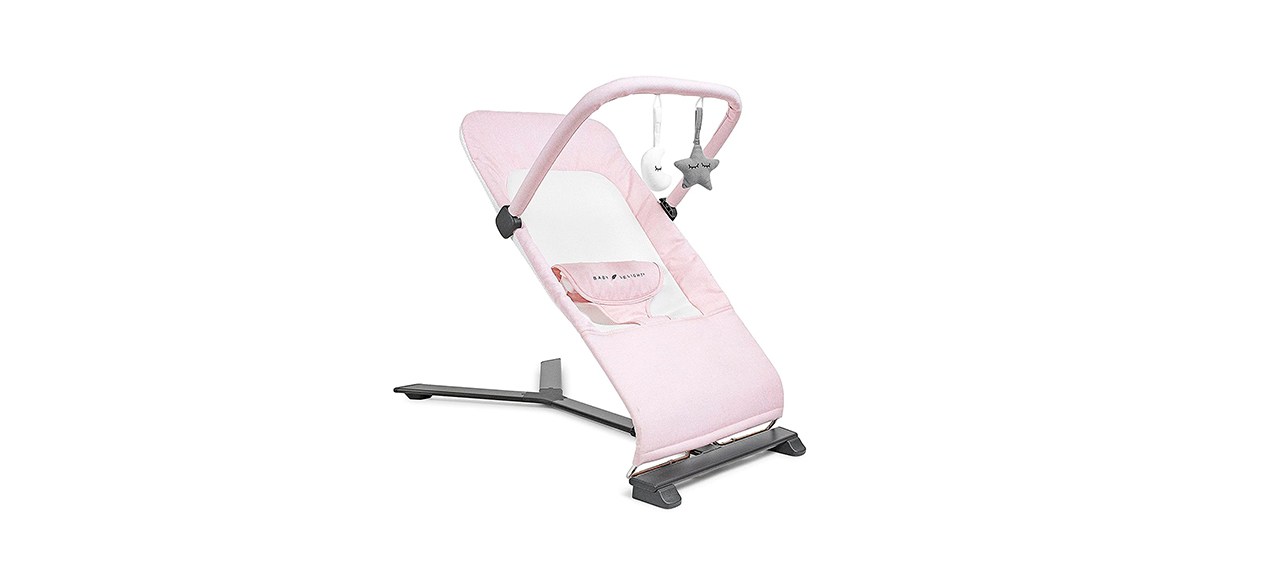 Baby Delight Alpine Deluxe Portable Baby Bouncer
This bouncer has a three-point incline, so your baby can be more relaxed or more alert, and a three-point harness to keep them stable. It folds down flat and has a hefty travel bag. The cover is removable and machine-washable, and it comes in four colors.
Sold by Amazon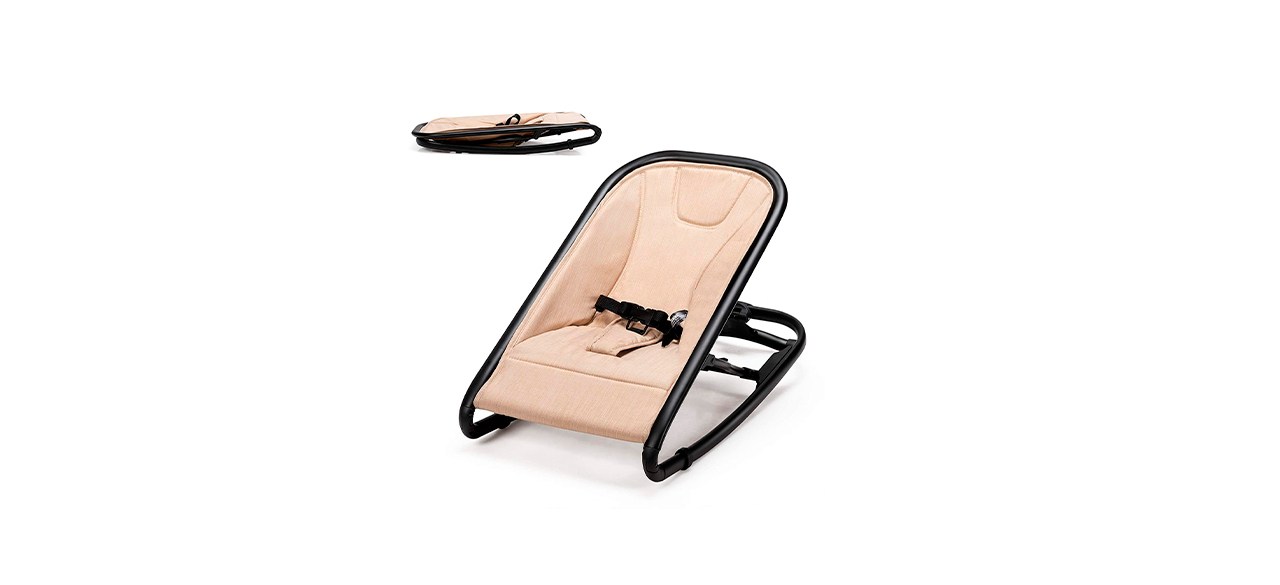 Baby Joy Two-in-One Baby Bouncer
This device can swap between a bouncer and a rocking mode, plus it can fold flat for easy travel and storage. The fabric can be unzipped from the seat to machine-wash it, and a three-point padded harness ensures your baby won't go anywhere.
Sold by Amazon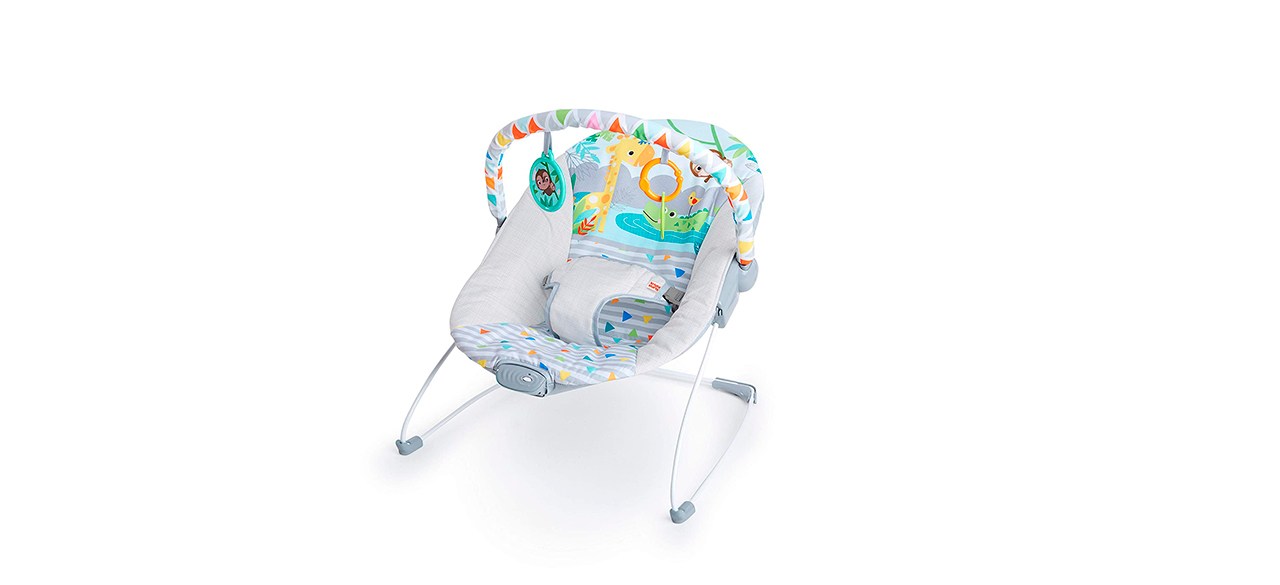 Bright Starts Safari Baby Bouncer
This bouncer comes in six animal-themed designs. It includes two hanging toys to help maintain your baby's attention, but they and the bar they're attached to can be removed. The seat pad and insert are machine-washable, and a vibration function is included.
Sold by Amazon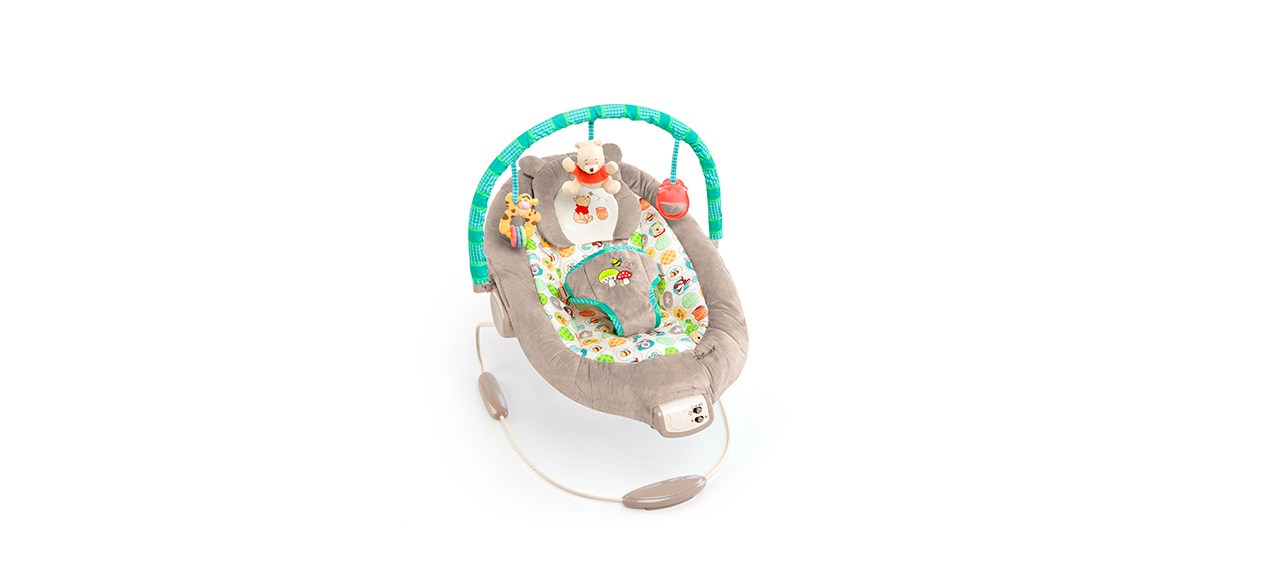 This is a more advanced — and more expensive — version of Bright Start's bouncer. It has an extra toy on its removable bar. The head support is also removable. The seat is made from faux suede, and it can play seven melodies. It comes in Winnie the Pooh, Mickey Mouse and Minnie Mouse designs.
Sold by Amazon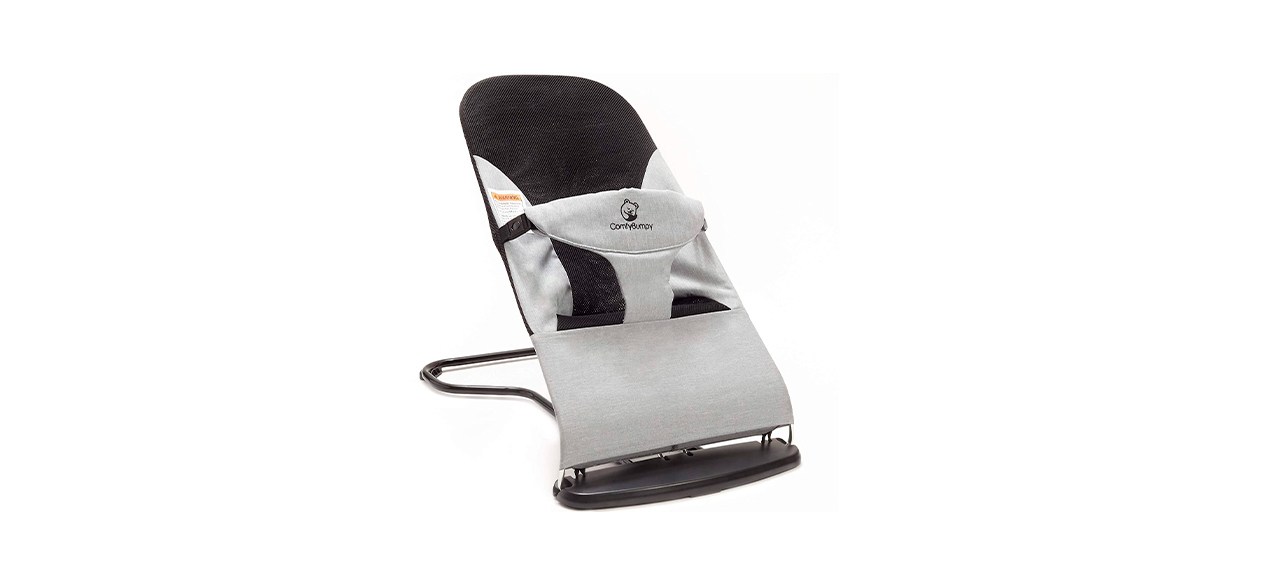 This is an excellent travel bouncer, as it folds down flat and has a carrying case with a handle to keep it clean while you haul it from place to place. It has three seating angles and a machine-washable cover.
Sold by Amazon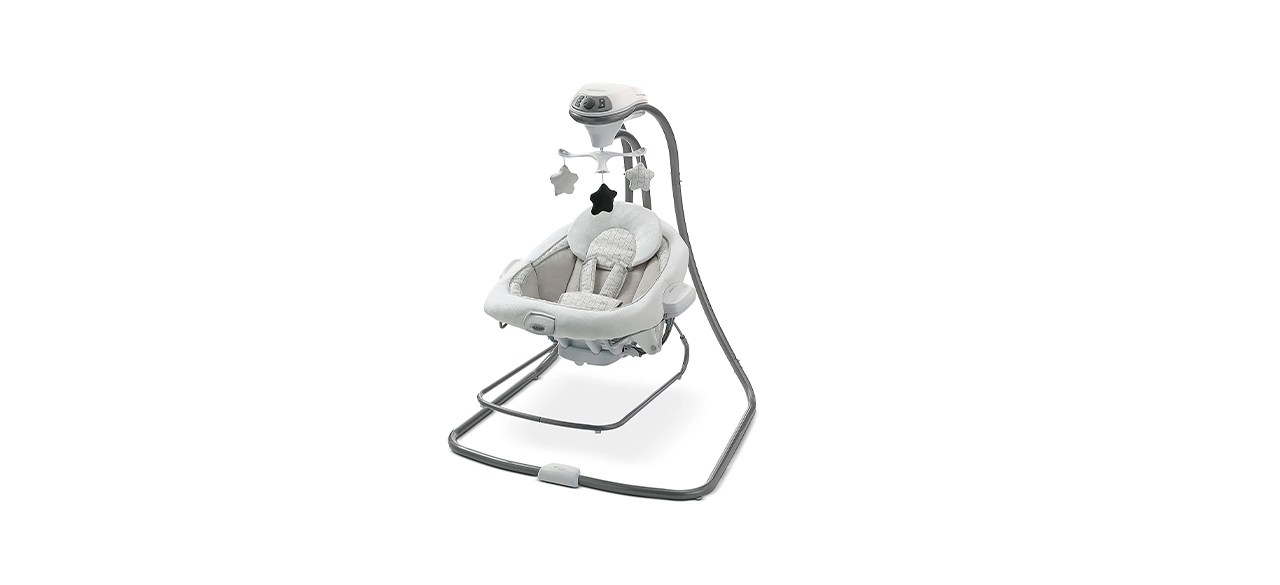 Graco DuetConnect LX Swing and Bouncer
You can swap between bouncer and swing forms with little hassle to keep your baby engaged or soothed. The swing has six speeds, and both forms offer two vibration settings, 10 melodies and five soothing sounds. It comes in two colors.
Sold by Amazon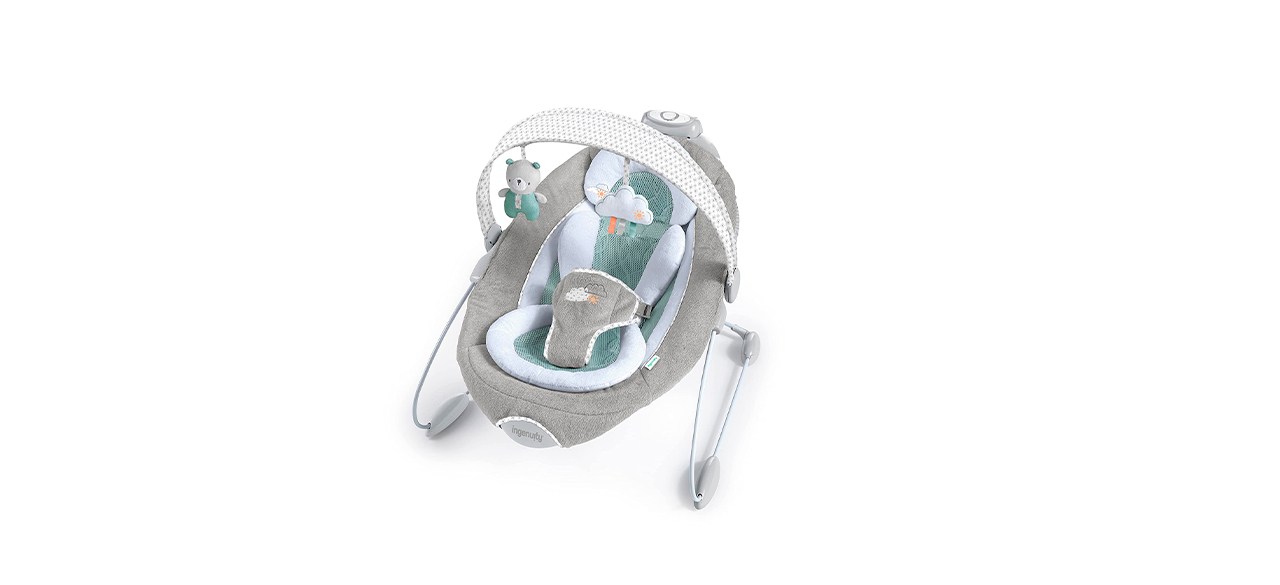 Ingenuity Soothing Baby Bouncer
This has a removable headrest, so space can be made as your baby grows. It can play eight melodies and has a volume control, plus it can vibrate and be automatically shut off to save batteries. It comes in five colors.
Sold by Amazon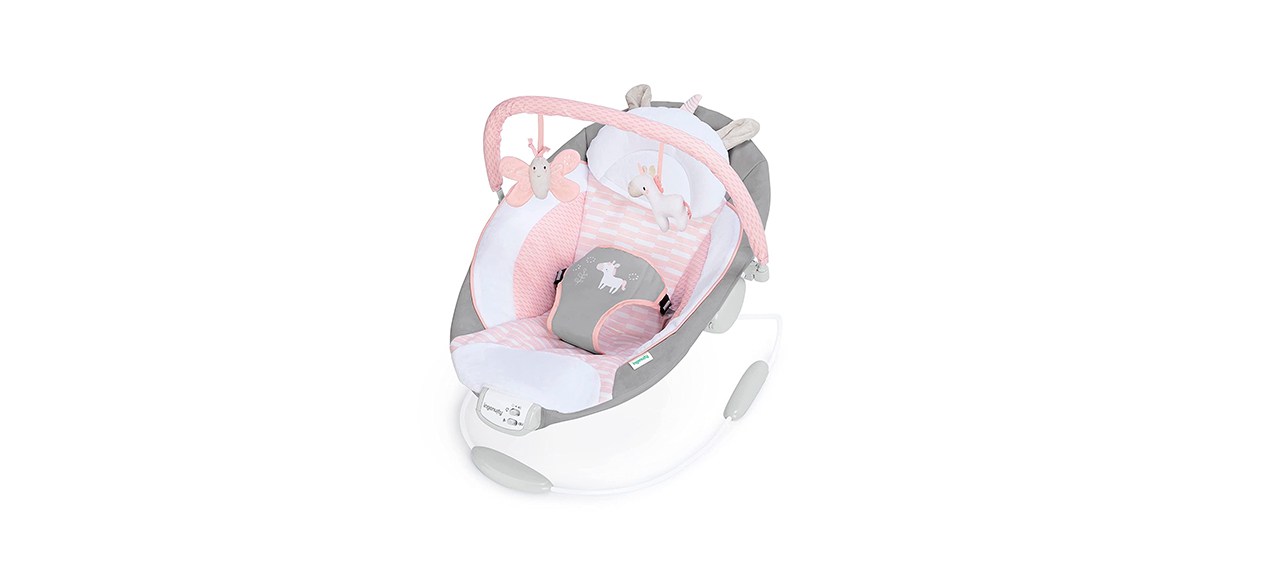 Ingenuity SmartBounce Automatic Baby Bouncer
This bouncer keeps things moving for 30 minutes until it shuts off to save batteries. It can play 12 melodies, three nature sounds and white noise, and you can control the volume. It comes in three colors.
Sold by Amazon
Want to shop the best products at the best prices? Check out Daily Deals from BestReviews.
Sign up here to receive the BestReviews weekly newsletter for useful advice on new products and noteworthy deals.
Jordan Woika writes for BestReviews. BestReviews has helped millions of consumers simplify their purchasing decisions, saving them time and money.
Copyright 2023 BestReviews, a Nexstar company. All rights reserved.